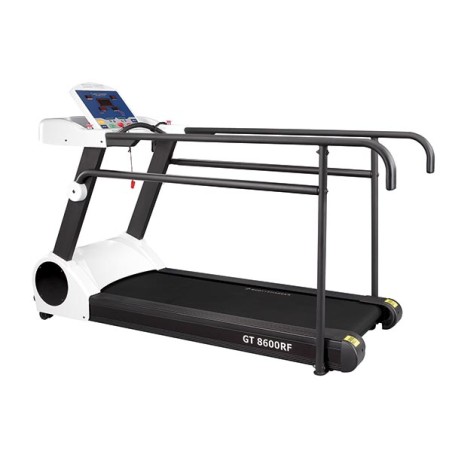  
Rehab Treadmill
SKU: 587-GT8600RF
Suggested retail price: kr. 62,500.00 (kr. 50,000.00 excl. VAT)
kr. 46,875.00 (kr. 37,500.00 excl. VAT)

-25%
Rehab Treadmill
This rehab Treadmill is a really delicious Treadmill, which works perfectly for rehabilitation centers due to all its benefits.
It can start at a speed of 0.16 km/h – both forwards and backwards.
Low entry can only be 16.5 cm from floor to running surface.
The treadmill comes with long side supports at 2 heights, and can handle a max. weight load of 250 kg.
Specifications:


Engine: 4.0 Hp


Running surface: 53 cm x 160 cm


Elevation: 0-15%


Forward speed: 0.16-20 km/h.


Speed backwards: 0.16-5 km/h.


LED Dot Matrix Display


Wheels for easy movement


Dimensions: 214×83.5×145 cm


Including 2 emergency buttons and safety key for user safety


Weight: 156 kg.



Max user weight: 250 kg